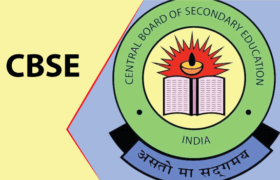 The CBSE national board's curriculum aims to deliver a uniform education throughout the nation. This indicates that a common curriculum is followed by CBSE schools, ensuring consistency and uniformity in education.
Emphasis on Science and Mathematics:
Science and Mathematics are given a lot of attention in CBSE schools, along with a focus on the development of logical and analytical skills. Students who want to work in the fields of science, technology, engineering, and mathematics (STEM) may find this to be especially helpful.
The continuous and comprehensive evaluation (CCE) approach used in CBSE schools allows for regular review of a student's academic progress. This presents chances for improvement while also assisting in identifying a student's strengths and flaws.
Well-defined norms and regulations are in place, and CBSE schools are well-organized and structured. This motivates pupils to be more accountable and responsible and contributes to the development of a structured learning environment.
The CBSE administers a number of national admission exams, including NEET, JEE, CTET, and others. Good test preparation from CBSE schools can provide kids with a significant advantage when applying to prestigious colleges and universities.
Overall, CBSE educational institutions provide a well-rounded education that prioritizes intellectual prowess, a scientific temperament, and personality growth. These elements make CBSE schools a well-liked option for both parents and kids.
Rudra The Practical school follows the CBSE curriculum and makes use of modern teaching methodologies achieved through smart classrooms and labs with in-built audio-visual systems.